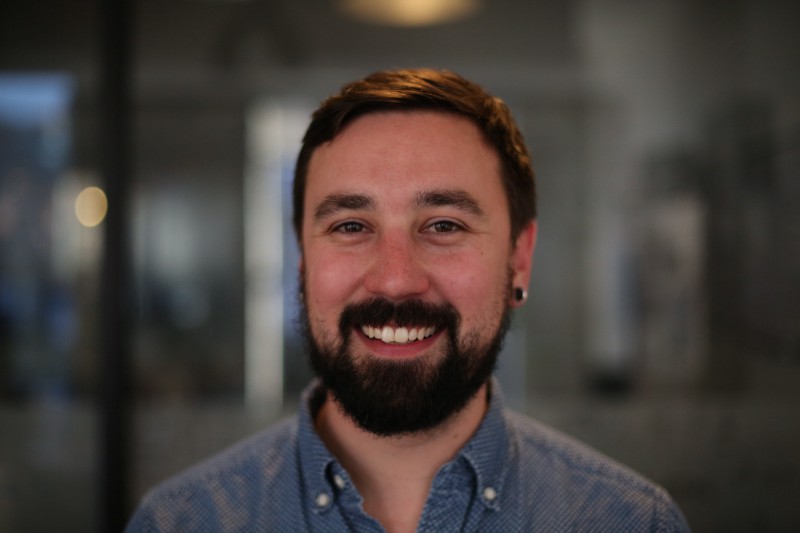 Aaron Arntz
Programmer/Musician
Brooklyn,
New York
US
Recent graduate from NYU's Interactive Telecommunications Program (Masters of Professional Studies, 2015) and a professional musician. Highly proficient in programming, problem solving and creative thinking.
Programming
advanced
Javascript
React/Redux
Rasberry Pi
Node
Linux
Python
HTML
CSS
Shell Scripting
Vim
Tmux
Git
Pro Tools
Max/MSP
Finale
Dabbled In
intermediate
Haskell
Java
C++
Supercollider
Personal
master
quick learner
works well with new people
systematic thinker
organized
efficient
Developer
Cactus Technologies
Used React/Redux on the front end with React-Native on an Android Tablet. Used a Node server on the back end.

Sniffed Bluetooth from a medical device using a Raspberry Pi to capture packets and interact with a VR system.

Worked with many different technologies and systems.
Developer
Black Egg
October 2016
- December 2016
Implemented RFID connectivity and data collection for Senac conference in Rio De Janeiro
Used RFID card readers with Raspberry Pi to collect conference data

Set up mongoDB replica sets and utilized nodeJS clustering capabilities

Provided integration with third-party apps

Generated custom emails for conference participants based on daily interaction
Research Resident
DBRS Labs
January 2016
- February 2016
Used a character-level Recurrent Neural Network trained on a corpus of LilyPond music notation files to generate sheet music.
Developer, CJ-GIVES CAMPAIGN
Freelance
Implemented a robust Twitter and Instagram hashtag counting charity campaign which raised $1.50 for each use of the hashtag #CJ150 for the Vietnam New Village Program totaling over $40,000
Developed the backend which counted and stored hashtag uses in a PostgreSQL database while live updating a website with the results
Professional Touring Musician
Freelance
January 2000
- March 2018
Traveled the world as a touring pianist/keyboardist. Toured with Beirut, Edward Sharpe and the Magnetic Zeros, Nikka Costa, Zappa Plays Zappa, Mike Doughty, Mike Patton, Priscilla Ahn, LNZNDRF, The National, and currently playing with Grizzly Bear.
Won a Grammy in 2008 for "Best Rock Instrumental" with Zappa Plays Zappa

Many television and radio performances

Designed many solid live-performance instrument setups and rigs
Master
Interactive Telecommunications Program (ITP)
NYU
SOCIAL DATA ANALYSIS - Analyzed social data from social media using Python to implement many different statistical techniques and methods
GOVERNING DYNAMICS OF SOFTWARE - Designed programming languages while studying existing languages' biases/strengths
THESIS - Developed a series of experimental meta-tools to create art/music which utilize 'invisible' data from our day-to-day use of technology
REDIAL - Developed telephone applications using Asterisk (an open source switching and Private Branch Exchange framework for Linux) on remote servers
API MASHUPS - Developed several one page web applications using popular APIs
DYNAMIC WEB SERVER DEVELOPMENT - Built and deployed an example Web Server to Heroku using Node.js
Bachelor
Jazz Studies
University of Southern California
Grammy - Best Rock Instrumental
National Academy of Recording Arts and Sciences
2008
Computer Science
Functional Programming
Data Science
Systems Architecture
Experimental Development
Artificial Intelligence
Self-Driving Cars
Medical Diagnoses/Predictive Care
Machine Learning
Neural Networks
Generative Art